Rather than pointing out the obvious and saying the Maloofs are cheap pieces of craptastic amphibious lowlife shit, I'll just leave them out of this. We know they are worthless. Yesterday proved it yet again. The NBA was thrilled to hear they "agree" to sell the team to Hansen because if nothing else it illustrates one thing: They will have to sell to whomever the NBA ultimately decides they think this Kings franchise should end up. That's the good news. Which, in layments terms, is that the Maloofs are more than broke enough that they have to sell no matter what. That's really good news.
Yesterday is perfect proof why.
On the other hand, there are other things to discuss here.
Tyler Honeycutt was a long term project that never really had an opportunity to pan out here. Now it will happen in Houston or somewhere else, but not in Sacramento. What were the reasons for passing on Kawhi Leonard again? Remind me. Oh, John Salmoons, Honeycutt and Jimmer. Yeah, I love this team.
Last summer, I spent a significant chunk arguing for Drummond in futility. I knew it was futile then; I know it's futile now. The Kings took Thomas Robinson, and traded him for Patrick Patterson. Nothing wrong with Patterson, but downgrading assets are stupid. It's bad policy in any shape or form. I'm not opposed to having traded Robinson for something tangible that improves the team; how does acquiring Patrick Patterson do that? It doesn't. It was a money grab.
Which, brings me to Francisco Garcia. His career with the Kings has ended, and to the Cisco kid, I say: Block the shit outta everybody in a Rockets uniform, sir. Also, let's ride. Thank you for the good memories (what memories there were). As a side note, that exercise ball accident was just ridiculously terrible on every front. The exercise ball has for all intents and purposes ruined Cisco's career, unless going to a real franchise (which the Kings are not at the moment) helps revive Cisco's career. I hope it does.
Last but not least, Geoff Petrie. Once again we have Petrie's ego on full display. Rather than taking a symbolic stand (that wouldn't have made up for all the bullshit Petrie has pulled over the years truthfully, but it would have been a nice ending) and actually fighting the Maloofs every step of the way, Petrie gave in as he always does. I blame Petrie for not pulling out of this mess. Petrie knows better. He knows why it's a mistake. He knows TRob was every bit more tradeable (and with ownership and a front office that had resources no less), and he let it happen anyway.
This is Geoff Petrie's legacy: He gets shoved around by worthless shiftless crummy no money ownership because he has no choice? Really?
After letting Rick Adelman go, there's been one shit show moment after another. It took awhile to flesh it out full force, but here it is. Petrie is to blame for what he has to control: His role as basketball operations would look a bit more stellar than anything else if he quit rather than execute this trade. And once again, Petrie proved that he's nothing but a coward and a punk.
Good riddance. I'm really sorry I've ever written this. I've regretted it for 14 months and counting. What a waste. I used to admire the skill Petrie ran the franchise, but the league has ran him by in part becaus he insists on trying to dig himself out of a hole by digging himself down in the hole even further. Had Petrie not used a whole slew of head coaches, Jason Levien, and even the Maloofs as cover, I'd feel differently about his tenure. He's not an idiot; he's just a shiftless and crummy politician who wants to lay blame on everyone but him. (It's a wonder DeMarcus Cousins acts the way he does. It's perpetuated by ineffectual crummy leadership at the top. Note: I'm not saying that Cousins isn't primarily to blame. But you can't criticize someone, and ultimately hope to prevail upon someone by trying to get them understanding why their behavior needs to be modified, who does the same thing as you.)
Do I think Jason Levien is any great loss? Probably not, in all reality. Levien wanted to improve the front office, and Petrie got paranoid that someone was taking something from him. He even signed on for less money so he could finish this rebuild out in style and prove to the world he was right.
Well, Geoff Petrie was wrong. When you work for the crummiest most shiftless godawful ownership in NBA history (which is saying something when the ranks include guys like Ted Stepien), you are just as bad as they are. You are a willing conspirator.
Good riddance Geoff Petrie. Take your sorry ass and get gone. You are done here. Or you should be. You are not to blame because the owners are broke ass pieces of shit, but you are to blame for not doing something (like quitting) to stop it. You are gutless. You are a punk. You are the GM version of the Maloofs. You suck. Get gone asshole. We don't need no high falutin' piss ass rich kid high collar muthafuckaz around here ruining our franchise any further. The Maloofs are worthless because they are trust fund babies; you sir are a heretic, a Benedict Arnold if you will, because you know better. You are too worried about you; for that I say goodbye forever. You should have been fired for stabbing Paul Westphal in the back, you should have been fired for passing on Kawhi Leonard and Andre Drummond in back to back drafts, and of course you have sullied your entire legacy with this Robinson trade yet again.
Quite honestly, with this shit ass ownership and "President" of BBall Ops, it's amazing there are still Sacramento Kings fans. It's time to improve on the product by getting new ownership and management. After that, nothing is guaranteed but having real ownership and actual management who will make actual decisions and not just pussy foot around broke ass piece of shit ownership will make a difference.
There is a huge difference between clueless people who don't know any better, and the people who enable them. Geoff Petrie has enabled the Maloofs to continue doing this. Shame on him. You should not be willing to have that on your GM tombstone, but that's pretty much as unforgivable as the highs of a decade ago were in the remarkable category. This is ridiculous. You could, and should, have left on a much higher note. Yet this is how you leave. You are a pathetic waste. Petrie hasn't lived long enough to be the villian; he's lived long enough to become worse than the villians. Ask yourself: Is George Maloof just a clueless piece of shit who happens to own part of a basketball team worse than a career basketball man who can see a trainwreck coming miles and miles away but does nothing to stop it?
How does one achieve that? Just strip this team to it's essence the last few seasons, talk about how worthless and crummy this ownership is, and well, here you go.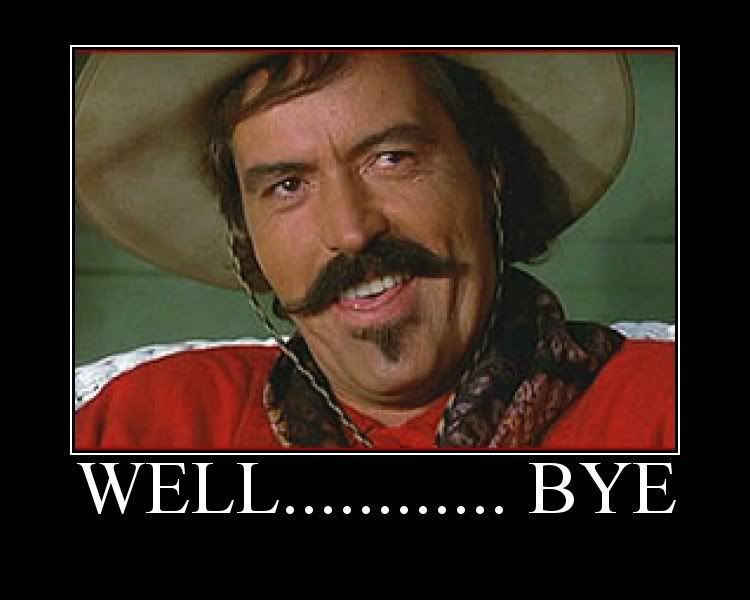 This pretty much sums it up for me. I'll have much more about Geoff Petrie when he "officially" leaves, but for now this will have to suffice.
The good news is that as I write this, there is only 3 hours of active tradeable time before the end of the season (when no trades will be had if for no other reason because other teams won't bother).